Philadelphia telephone exchanges (Keystone)
The Keystone Telephone Company was a small company based in Philadelphia. Although in most cities, competition between different telephone companies in the same market had ceased by the early part of the twentieth century (usually with the Bell company buying out the competition, but in some cities with the Bell system deciding to leave a particular city to an independent company), in Philadelphia Keystone continued to compete with Bell until Sept. 17, 1945. This did, of course, cause inconveniences to businesses which needed to have two different telephones to be able to receive calls from all prospective customers.
As stated, Keystone was a much smaller company than the local Bell System company, which one might see as a major disadvantage because subscribers to the two systems could not call each other. But Keystone actually turned this to its advantage. Because of its small number of subscribers, Keystone only needed seven local exchanges in Philadelphia (Apparently there was a totally manual exchange across the river in Camden, N. J., to judge by the dialing instructions, which advised callers to dial 9 for a Camden operator and give the number desired to that operator), so that the exchanges could all be reached by dialing one digit. Besides leading to a unique dial design (see picture below), this allowed Keystone to advertise itself as the "fastest telephone in Philadelphia." (All you had to do is dial five digits, not seven!)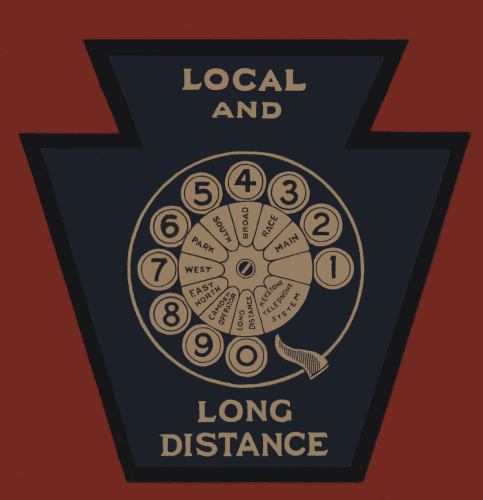 In 1945, the Bell Telephone Company of Pennsylvania bought Keystone, and on Sept. 17 of that year shut it down. Subscribers in Philadelphia were taken over by Bell (though 86% of them were already also subscribers to Bell's service, so only a small number were involved), and the subscribers in New Jersey were taken over by New Jersey Bell.
Since the number of exchanges was so small, it is possible to adopt a different format for the list of Keystone exchange names than is used elsewhere on this site. Both the alphabetic and the numeric list are presented on this page, side by side, instead of putting them on separate pages. And there will be no need to link back and forth between entries in the two tables, since the whole of both tables can be visualized at once. Note that the digits 9 and 0 were reserved: 9 for the Camden operator and 0 for the long-distance operator.

| Digit dialed | Name of exchange |
| --- | --- |
| 2 | Main |
| 3 | Race |
| 4 | Broad |
| 5 | South |
| 6 | Park |
| 7 | West |
| 8 | East-North |

| Name of exchange | Digit dialed |
| --- | --- |
| Broad | 4 |
| East-North | 8 |
| Main | 2 |
| Park | 6 |
| Race | 3 |
| South | 5 |
| West | 7 |
Note that in keeping with the common policy of all telephone companies, because an accidental jiggling of the hook would transmit a "1," no telephone number could begin with a 1.